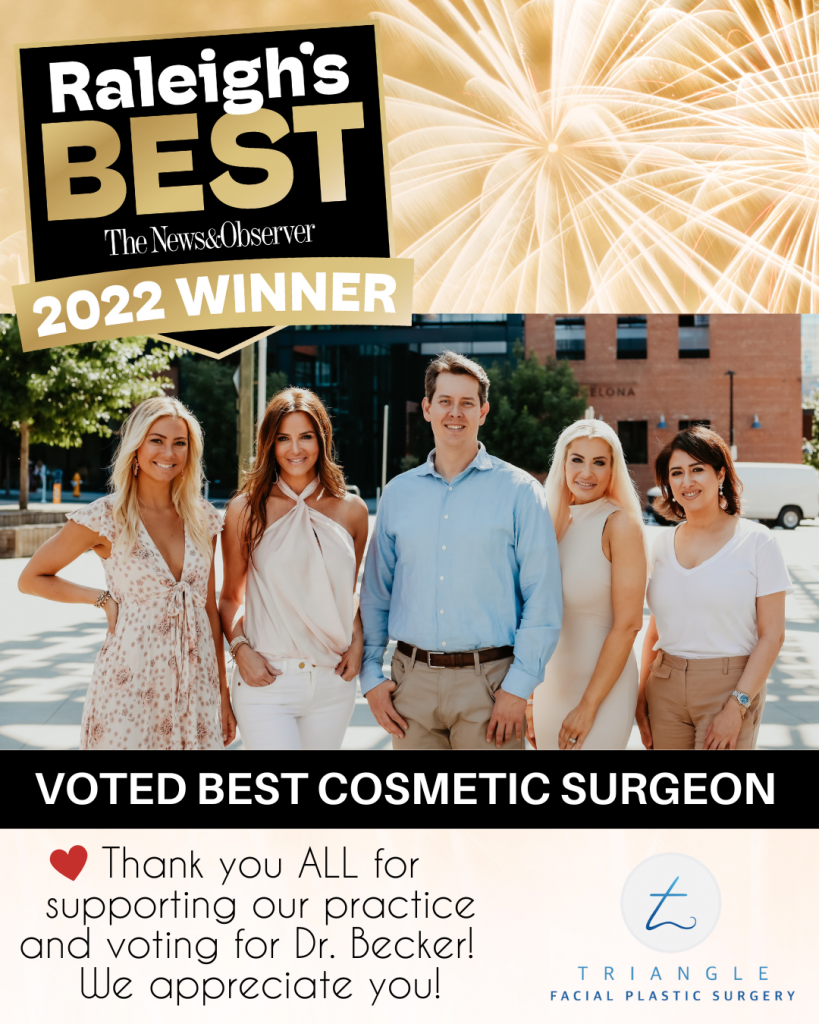 We are thrilled to announce that Dr. Becker and Triangle Facial Plastic Surgery won Raleigh's Best Cosmetic Surgeon for 2022! Thank you to all our clients who voted this year; we are infinitely grateful for your business and your showing of support. You can see Triangle Facial Plastic Surgery on pages 26 and 31 of Raleigh's Best Magazine. Upon delivering the news, Raleigh's Best asked us a few questions. Read on to learn more about top-rated Raleigh cosmetic surgeon Dr. Adam Becker and Triangle Facial Plastic Surgery!
1. Tell us about your business and what sets you apart from your competition?
Triangle Facial Plastic Surgery is Raleigh's premier facial plastic surgery and aesthetics practice, built on expertise, integrity, compassionate care, and beautiful results. Dr. Adam Becker, the founder of Triangle Facial Plastic Surgery, is a highly skilled and experienced Raleigh cosmetic surgeon focusing on facial reconstructive surgeries and non-surgical facial aesthetic procedures. Dr. Becker is a well-respected industry leader with a strong track record of outstanding results and patient satisfaction. His passion for helping his patients restore confidence and age gracefully is obvious the very first time you meet him.
At Triangle Facial Plastic Surgery, Dr. Becker and his team work diligently to ensure that every patient has a BEST-IN-CLASS experience. We strive for every patient to feel warmly welcomed, comfortable, appreciated, and well cared for every time they visit. Our approach to patient relationships, combined with our expertly crafted surgical and facial aesthetic treatments and outstanding results set our practice apart from the competition!
2. Tell us about your Cosmetic Surgery?
Dr. Adam Becker / Triangle Facial Plastic Surgery specializes in cosmetic surgical and non-surgical procedures focused on the face, neck, and nose. Dr. Becker's most prevalent cosmetic surgical procedures include facelifts, necklifts, piezo rhinoplasty, blepharoplasty (eyelid surgery), radiofrequency assisted submental liposuction and facial implants. Additionally, he offers non-surgical cosmetic treatments including physician-administered neurotoxin (Botox) injections, dermal fillers, and laser skin resurfacing. His conservative approach to his customized anti-aging treatments has earned him a reputation for delivering the most gorgeous and natural-looking patient results. Dr. Becker's cosmetic procedures are primarily administered in our luxurious, state-of-the-art medical suite in North Raleigh, which is equipped with private and comfortable patient exam rooms, a medical spa treatment room, and AAAASF certified surgical suite.
Contact us today if you are interested in learning more about our services or scheduling a consultation. Our office staff is standing by ready to help!